Global Understanding for Sustainable Development (GUSD)
We introduce ourself "Audacious Dreams Foundation"(ADF),India aims to inspire, inform, engage, enable and empower youth for global understanding and sustainable development.
As part of our organisation's mandate Global Understanding and Sustainable Development(GUSD) : we promote Mainstreaming youth participation at International level by various measures using Exchange programme, Interstate/country cultural forum, volunteer & Internship abroad, Inter Country Youth forums, policy making at international level to raise youth voice and strengthening "Be Seen, Be Heard".
In the past, we have hosted volunteers and youth exchange programme from UK,Srilanka,China,Malaysia,Mauritius etc. Your application and resume looks impressive and we are sure that having you as volunteer in our Audacious Dreams Volunteer Aborad programme will add value to our community development initiatives . Hereby We would like to extend an invitation to host you as volunteer/study Abroad participant
We believe this GUSD programme will give an opportunity to unleash the potential of our you and Indian nationals to empower themselves and community around them. This GUSD visit help our fellow youth to create peace talks, civic responsibility, culture understanding, policy exchange, Management skills,communication, rich diverse experience, field visits etc. We see opportunity for youth to develop and engage with societal issues to be a part of new generation change agent.
Host Organisation - Audacious Dreams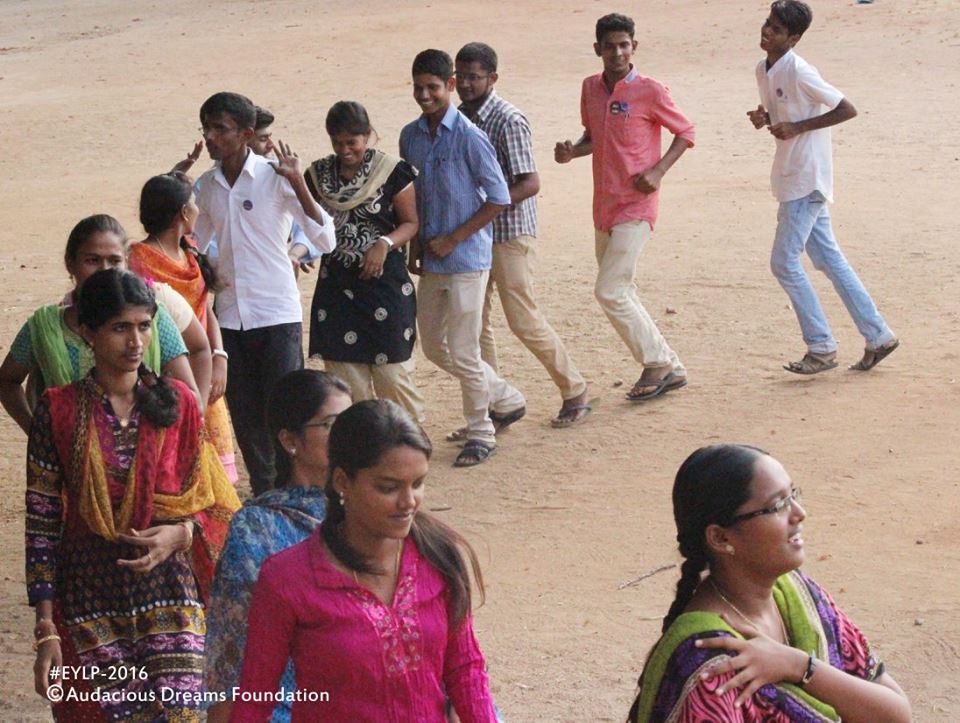 Audacious Dreams Foundation (ADF),India, aims to inspire, inform, engage, enable and empower youth for global understanding and sustainable development by using various measures starring from mutual dialogue, education, sports, rural development, policy making, adolescent health, environment, women empowerment, social entrepreneurship, vocational training etc.
Our Programme are as follows:
Audacious Dreams International Volunteers(ADIV)
Audacious Dreams Study Abroad and Experiential Learning (SAEL)
Global Participation and Policies
It is true as the saying goes, "Those who can, do. Those who can do more, volunteer". Indeed when one thinks of Volunteerism, they usually envision something which requires a lot of sweat and hard work. But at the same time one cannot deny the indescribable, irrevocable feeling of satisfaction and contentment that is bound to come along with it. We in Audacious Dreams strongly believe in the fact that No one is more cherished in this world than someone who lightens the burden of another. Kindness is indeed a language which the deaf can hear and the blind can see. We at Audacious Dreams aspire to do just that. To bring the spirit of volunteerism alive in people and in doing so providing them a obvious opportunity to do their bit to the society. Here our main focus is to bring volunteers from abroad and have them dwell into the incredible nation that is India.
What we Offer
1.Community Development
The Positions that we offer under this are as follows:
1 Community Organizer
2 Youth Counsellor
3 Grant writing/fund raising
4 Youth Mentor
2.Education
Teacher Training
Arts/crafts/special education or any specialised subject
Sports for development and Experiential Learning Project.
1 Sports coaching & mentoring
2 Adolescent Youth and Health project
3 Civic citizenship and social learning
4 Sports for development and peace training
5 Innovative experiential learning methodology
4.Designing, Film Making, special campaigns
4.1 Documentary /shot films direction
4.2 Community mapping
4.3 Creating social awareness campaign
4.4 Graphic designers, editors
Women empowerment & Gender Equality
5.1 Gender sensitization
5.2 Gender equality
5.3 He for She campaigns
Scholarship and Financial assistance
We have limited number of scholarships subject to availability to students/youth who have excelled in academics and extra-curriculum activities, and those who have involved themselves in youth and social development issues in local and global level, and have participated in international conferences. It is also for students who have financial barriers stopping them from attending Volunteering Abroad program. If so they can send their details to us at programme.audacious@gmail.com and collect the applications from the Audacious Dreams Scholarship – Global study program immediately.
Priority will be given for students who would expect credit course in volunteer abroad for the academic purpose
Accommodation
The volunteers will get to live in a fully furnished and facilitated Volunteer Abroad hostel. We also encourage students to explore the home stay/rural stay options in a later stage with Indian families to experience family bonding, hospitality, tradition, culture, arts, food etc. It is exciting to stay with a host family, providing you with a unique opportunity to learn about the Indian way of life, meet local people, try local food, speak the local language and engage in local customs and traditions.
We Guarantee Genuineness
Our Volunteer Abroad program provides genuine travel service and support via our knowledgeable and experienced team. We make all the necessary arrival and living arrangements and ensure your safety and security throughout your time in India.
Volunteering gives you an opportunity to make a difference in people's lives, a chance to get experience in a field you would like to work in, an opportunity to develop new skills and make new friends allowing you to use your experiences to help and enrich the local community. Moreover volunteering is fun and fulfilling, making way for you to experience many diverse opportunities which will result in you creating a lasting difference in peoples' lives here in India
Audacious Dreams indeed offers you the wonderful chance to do your bit to the world, to explore the land across seas and mountains while exploring your own self along the way. Be a hero. Be a Volunteer. Join us
Volunteers Speaks!!!
Volunteering with Audacious Dreams gives life time experience. Hear the experience of some of our inspiring volunteers.
United Kingdom
"What's most special about the ADF study-abroad program is the unique opportunity it presents to learn the powerful lessons of living and making a lasting impact as global citizens today. I ended up learning far more from the locals than I ever imagined. The true gift is how this learning helped me cultivate a far deeper, first hand understanding of the world beyond the borders of my home, that on so many levels the world shares the same needs and gifts of understanding."
– Katy Robinson, The Duke of Edinburgh's award Association, UK
Srilanka
"Living and volunteering in the village has been one of the most rewarding experiences that I have ever had. After just a few short weeks, the place had truly become my home, and the people my family."
Mohamed Anfas,
Treasurer, Srilanka Federation of Youth club,
Founder – Community of Youth Development Sri Lanka.
Malardeen Mohameed
Member- United Nations Inter Agency Network on Youth Developments Working Group
National trainer, National Youth Achievement Award, Srilanka
Secretary- International Youth Council,Srilanka
Malaysia
Dhanesh Basil,
Coordinator- Commonwealth Youth Coucil,
Director- Royal Commonwealth Society, Malaysia
Youth Parliamentarian- Malaysia Youth Parliament
Priyashree Suryanarayana-
President & Debate Trainer, UPSI English Debate Club
English Teacher, Innovative Education centre, Malaysia
China
Mauritius
Ritesh Dhan Gujadhur
Educator- Ministry of Education, culture & HR
Chairman - The Regional Youth Council of the District of Grand-Port