Kishva Ambigapathy, Chairperson of Commonwealth Youth Council visit to  India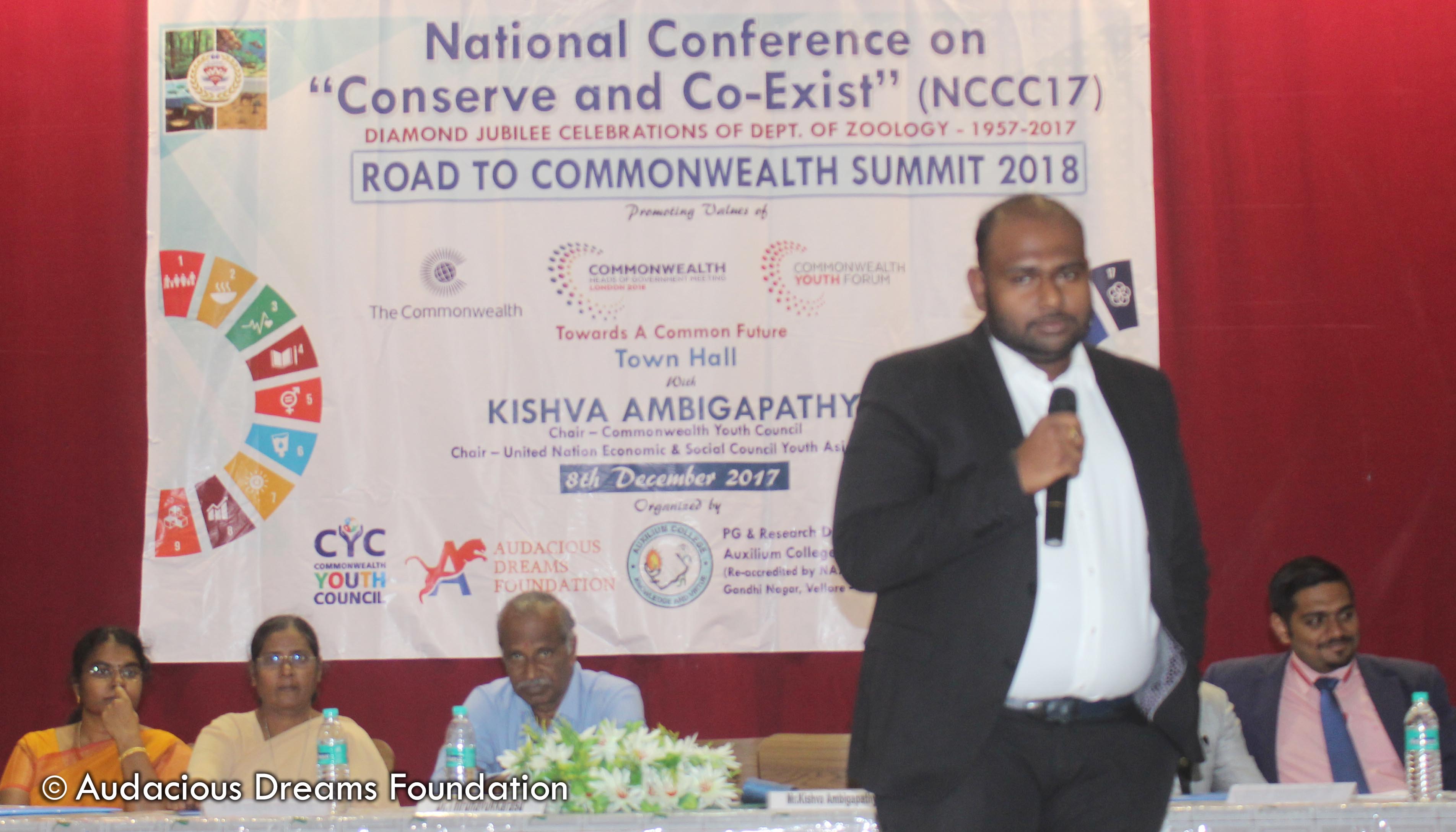 Road to Commonwealth Su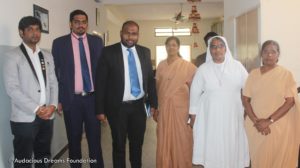 mmit – Campaign Launched by Audacious Dreams Foundation in India  in association with Commonwealth Youth Council
Road to commonwealth summit is a campaign to promote values of Pan-Commonwealth, Commonwealth Heads of Government Meeting & Commonwealth Youth Forum and to collect perspectives of Indian youth that Heads of Governments have to discuss during the Commonwealth Summit, which is going to be held at London on April 2018. This article contains the details about the Grand Launch of Road to Commonwealth Summit campaign.
Road to Commonwealth Summit – Towards Common Future
          Youth are having the major role in the Pan-Commonwealth. Above half of commonwealth population are aged below 30 years. They are going to address the future of the Commonwealth. Here in India young people have decided to send their voices across Commonwealth through their Campaign named as "Road to Commonwealth Summit 2018 – Towards Common Future". The Campaign has been designed to mainstream youth voices in the decision making process and taking collective voices of youth particularly from India to the Global Forums such as Commonwealth Heads of Government Meeting (CHOGM) 2018 & Commonwealth Youth Forum (CYF) 2018.
          Youth from Audacious Dreams Foundation, which is one of the pioneer youth led organisation that working for the Youth by the youth has taken this initiative to collect Youth perspective from India and to spread the values of United Commonwealth, CHOGM & CYF 2018. The campaign was designed by the Dinesh Gajendran, Catalyst & Executive Director of Audacious Dreams Foundation and Focal Point for Asia, Special Interest Group, Commonwealth Youth Council along with his team. Dinesh Gajendran has played and contributed in various roles of Commonwealth Youth Networks last few years.
          To attain the Common Future which is the focal theme of upcoming Common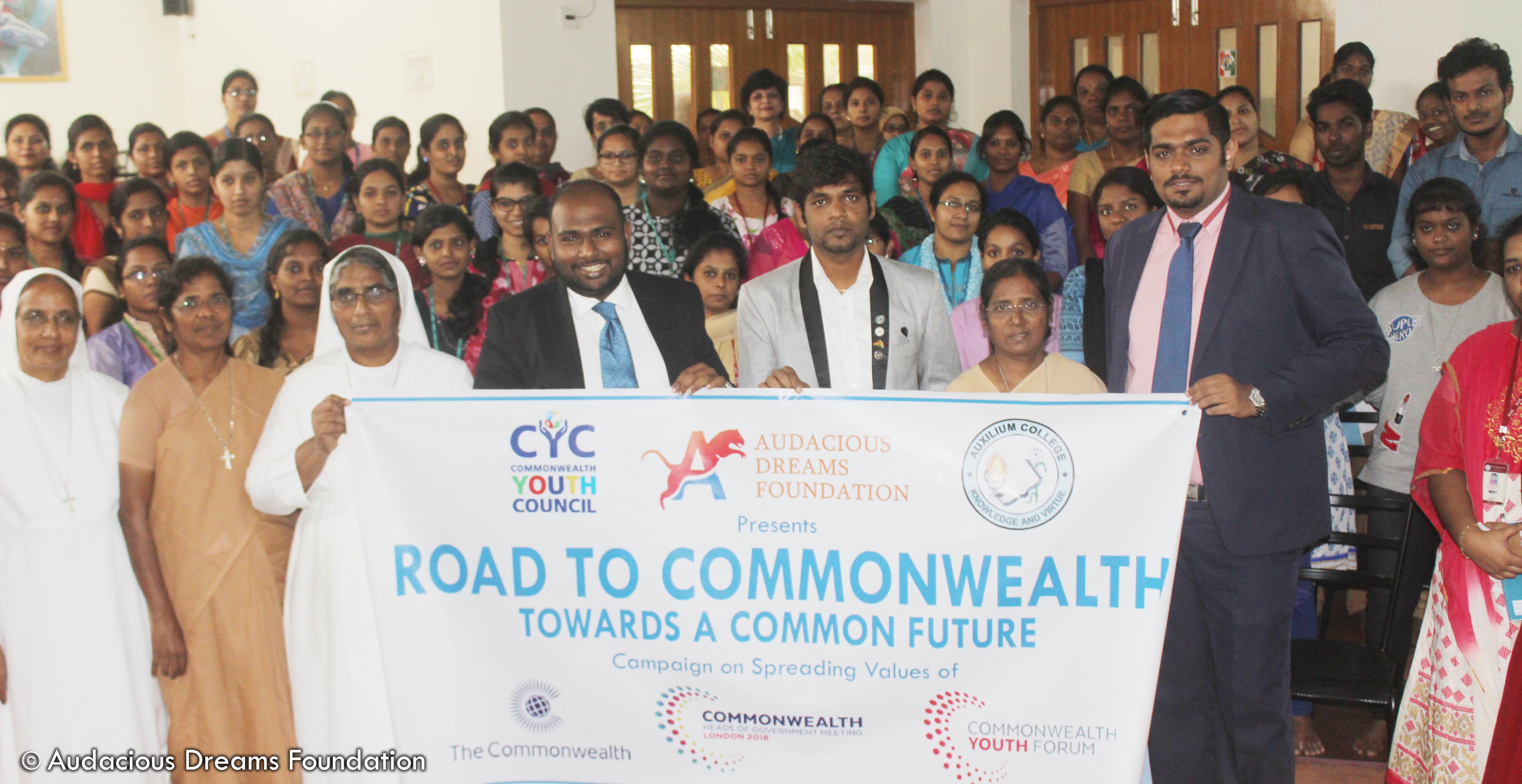 wealth Heads of Government Meeting the campaign was launched by  Mr.Kishva Ambigapathy, Chairperson of Commonwealth Youth Council on 08th December 2017 at Auxilium College, Vellore. This historical launch was witnessed by Academicians from various stake holding institutions and Young professionals. Chair of Commonwealth of Youth Council addressed the Summit and organised along with the national conference on Conserve and Co Exist held at Auxilium College, India. Mr.Dinesh Gajendran, Catalyst & Executive Director of Audacious Dreams Foundation along with Dr. (Sr) Mary Josphine Rani, Principal, Auxilium College, Vellore. Dhanesh Basil, Coordinator of Commonwealth Youth Council facilitated the event . During the occasion, An International Centre of Excellence has been launched in the region to promote global opportunities for youth of the region in India.
          This campaign is going to held in India from December 2017 to March 2018 to collect youth perspective of India to attain Common Future and to strengthen, mainstream youth voices in Decision making process. We would like to thank all the stakeholders, Young professional, Volunteers and Commonwealth Youth Council Secretariat for joined their hands together to inaugurate this wonderful initiative.
Celebration of Volunteer-Innovate-Participate(VIP) programme instituted with Commonwealth Youth Council
VIP is a programme promoting youth volunteerism for nation building and sustainable development. VIP programme is the initiative of Audacious Dreams Foundation and has been recognised as CYC partnership project which is an initiative of CYC to recognise the best youth development projects in the commonwealth countries. Since 2015 the VIP initiative has been instituted with Commonwealth Youth Council, the volunteers from India has  taken various initiatives and service lear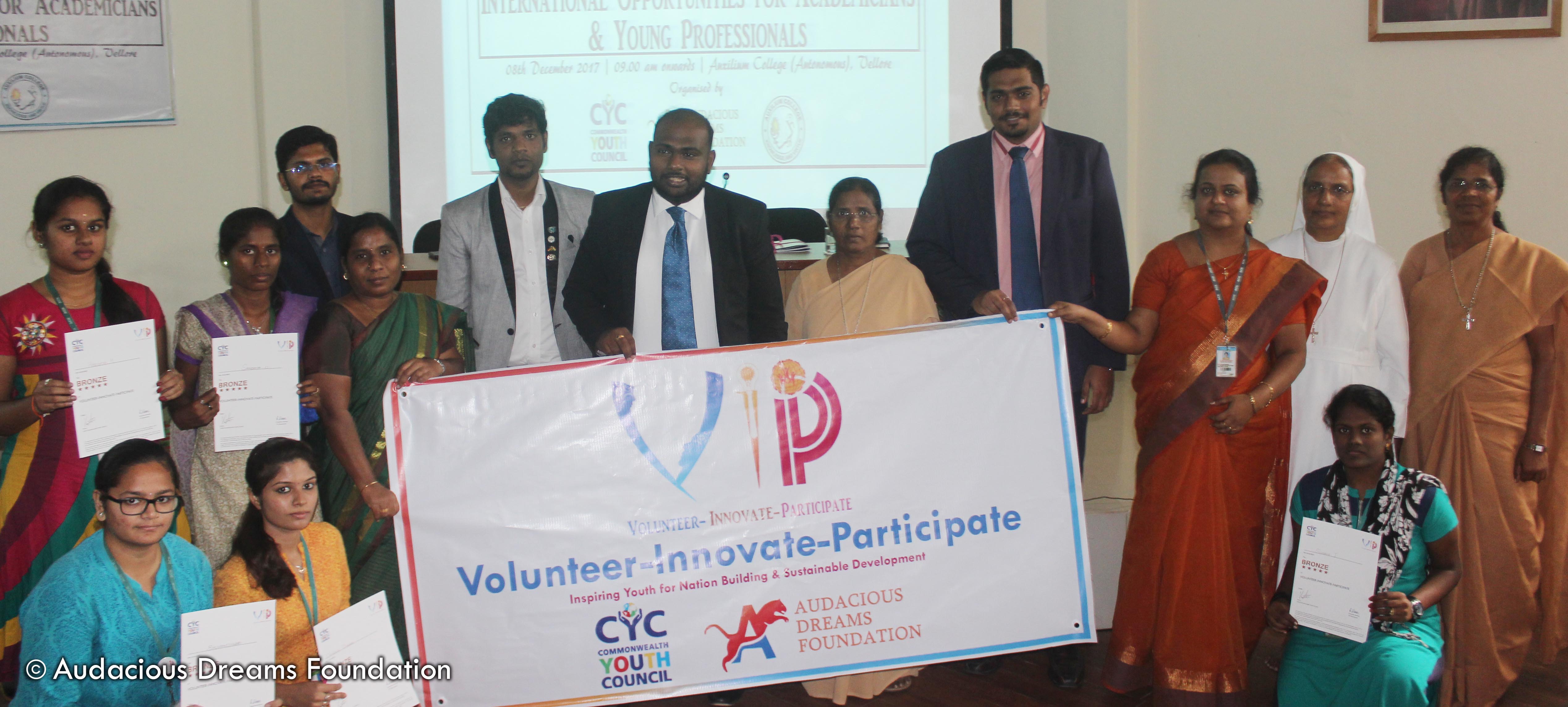 ning project in the community including child education, adolescent health, women empowerment, civic education and global understanding projects. Around 300+ volunteers had been registered with VIP programme and empowering their own community in India.
Kishva Ambigapathy, chairperson of commonwealth youth council had been graced the 2nd year annual recognition event organised for the volunteers to share their inspiring stories. Kishva delivered the award of recognition for 40 volunteers and encouraged the young women who are serving the society through the VIP programme . The new batch of participants had been registered to participate in this programme.Kishva also mentioned that the VIP initiative is promoting volunteerism in this region, likewise the organisers to bring various case studies on volunteerism from across the world to strengthen the initiative by hosting an International Conference for Volunteers in 2018 in India.
Please find the link to know more about the Programme
http://www.audaciousdreams.org/volunteerism/ 
India-Malaysia Youth Exchange 2018
Further to the successful India Srilanka Youth Exchange programme launched in 2015 which has been the initiative of Commonwealth Youth Council, Audacious Dreams Foundation,India and National Youth Services Council(NYSC),Ministry of National Policies and Economic Affairs, Govt of Sri Lanka, the new initiative "India-Malaysia Youth Exchange" has been launched which will be convened by Perak state Youth Council,Malaysia and Audacious Dreams Foundation, India facilitated by Commonwealth Yo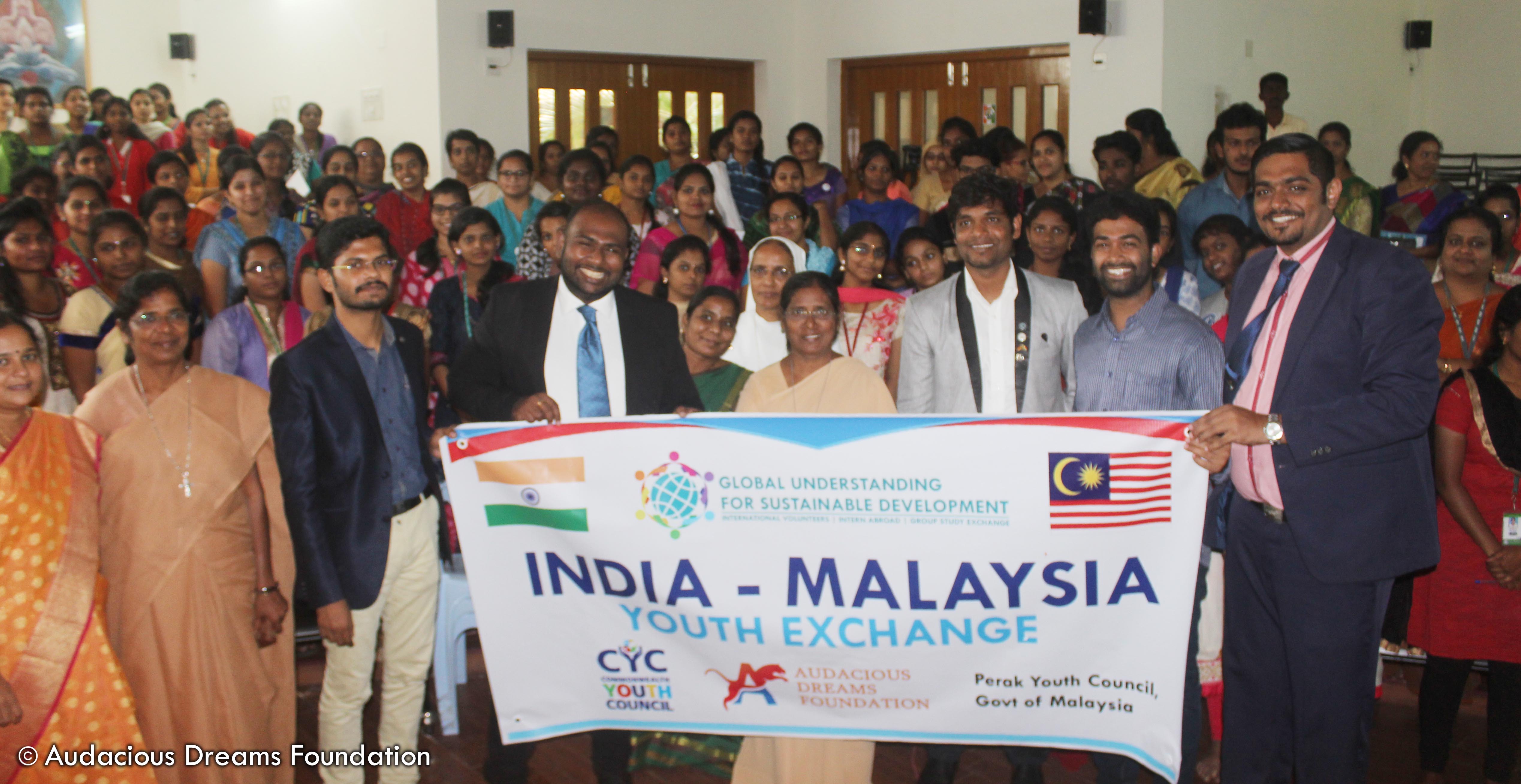 uth Council(CYC).  Kishva addressed that the initiative between India and Malaysia will strengthen the relationship of youth between two countries and it will be an opportunity to exchange various ideas,knowledge sharing, leadership and innovation, arts, culture and various other platform.
An Indian youth delegation will visit Malaysia in 2018
Launch of the Branch of Centre for Innovation Leadership
Centre for Innovation Leadership has been launched during the first ever commonwealth youth summit held at Malaysia during November 2017. The centre has been inaugurated by Prince Charles,Prince of Wales,UK . The centre will be an enabling platform to equip youth in skills development with digital creativity, technology and innovation which will upskill and upscale human capital to build competitiveness, drive economic and societal innovation, foster unity and cohesion and transform communities
The branch of Centre for Innovation Leadership has been launched during Road to Commonwealth Summit-December 2017 @ Audacious Dreams Foundation,India
Group Study Exchange, Internship, Volunteering Opportunities for Commonwealth Youth in India
Audacious Dreams Foundation, India which is a close partner for Commonwealth Youth Council from the beginning has been pledged to offer 2 scholarships per country in the Commonwealth to participate in the various programme offered by the foundation including Youth exchange,Group study exchange, Internship, Global volunteer, etc in India .
Kishva Ambigapathy,Chairperson of Commonwealth  praised this initiative and also highlighted this kind of opportunities will strengthen the ties among the Commonwealth Countries.
Global Understanding for Sustainable Development(GUSD) an exclusive global brand of Audacious Dreams Foundation, India which aims to inspire, inform, engage, enable and empower the youth around the globe towards Global Understanding for Sustainable Development.
In the past, Audacious Dreams have hosted volunteers and youth exchange programme from UK, Sri Lanka, China, Malaysia, Mauritius etc. This GUSD programme will give an opportunity to unleash the potential of our youth and Indian nationals to empower themselves and community around them. This GUSD visit help our fellow youth to create peace talks, civic responsibility, culture understanding, policy exchange, Management skills, communication, rich diverse experience, field visits etc. We see opportunity for youth to develop and engage with societal issues to be a part of new generation change agent.

For applications and other details
http://gusd.audaciousdreams.org
https://www.facebook.com/gusdindia/
https://www.facebook.com/audaciousdreams/