Promoting Volunteerism and Skill Development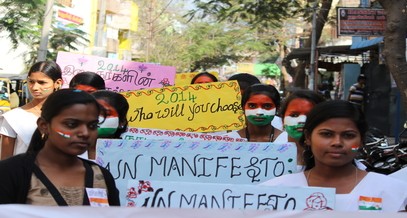 We the Audacious Dreams promote volunteerism among young people through various programmes including 
WHAT IS VIP
A Social Innovation Journey
Inspire change makers to make a difference within and around
VIP (Volunteer-Innovate-Participate) is a service learning programme to inspire youth for nation building by empowering themselves and community around through doing social innovations/contributions. VIP promotes participatory learning through volunteerism. VIP sets platform to inspire change making young people to work together towards a sustainable society by making a difference by identifying new ways of achieving life goals. Youth can empower themselves by learning and serving the community.
Social innovations
are new strategies, concepts, ideas and organizations that meet the social needs of different elements which can be from education to community development to strengthen civil society. Doing Social innovation in volunteerism helps the participants to undergo experiential learning on ground which leads to founding social entrepreneurship, social ventures and contributes to sustainable development.
Volunteerism
helps the participant to learn many life skills including, effective communication, inter personal relationship, problem solving and provides management skills including leadership, teamwork, etc.
To inspire, inform, engage, enable, youth to empower themselves and community around for nation building and sustainable development
Objectives of the Project
Mainstreaming youth to involve in Post 2015 Development Agenda and to engage contribute for the success of sustainable development goals.
Providing youth an opportunity to participate in the nation building process.
To learn the skills including functional, life skills and vocational skills.
To initiate and participate in service learning projects.
Providing working space for youth to frame, exhibit their skills and mentoring them with various leadership qualities.
To provide organized, structured platform for women and girls to empower themselves and community by initiative volunteer services.
Mainstreaming Professional Youth Work.

Structure of the programme
What the beneficiaries will do
Participants can do volunteering or social innovation in two ways.
1.Community Empowerment
Participants can choose any volunteering activity which benefits the society (50%)
2.Self-Empowerment
Participants can choose any volunteering or skill building activity to improve themselves (50%)
| Level | Duration | Recognition for the Participant | Hours of Service and Recognition |
| --- | --- | --- | --- |
| Level 1 | 6 months | Bronze (1 -5 star) | 100 hours- 1 star |
| | | | 200 hours-2 star |
| | | | 300 hours-3 star |
| | | | 400 hours-4 star |
| | | | 500 hours-5 star |
| Level 2 | 6 months | Silver (1 -5 star) | 500 hours-5 star |
| Level 3 | 6 months | Gold (1- 5 star) | 500 hours-5 star |
| Level 4 | 6 months | Diamond(1-5 star) | 500 hours-5 star |
| Level 5 | 6 months | Platinum (1-5 star) | 500 hours-5 star |
Who are the beneficiaries of the project?
The beneficiaries of the project are
The student/youth who do learn skills and do community service.
The people/community receives benefits from the youth services.

Who can participate?
| Age Group | Grade | Category |
| --- | --- | --- |
| 5-10 | 1-5 | Sub Junior |
| 11-17 | 6-12 | Junior |
| 18-25 | UG/PG/Diploma etc | Senior |
| 26-29 | Young Professional /community | Super Senior |
The idea behind and what the project brings in
Service has no boundaries. Participants can choose any kind of service according to their interest and opportunities. Service is not only donating money, it's all about voluntary efforts and time as per our capacity .The participants will take diversified projects according to the needs of the community including but not limited to;
Empowering young people and adolescent girls through life skills.
Mainstreaming youth in local governance.
Education on civic citizenship and participatory youth governance.
Sports for Development.
Promoting gender equality and adolescent health.
Advocacy and Awareness.
Social enterprise.
Skill building.
Ensuring quality education and teaching in marginalized communities.
Rural youth development.
Forming and Strengthening women self help groups in rural and marginalized areas.
Volunteering in development organizations.
Strengthening institutional youth agencies(Student council, academic council, discipline committee, campus coordination etc.,)

Award of Accomplishment
Participants will receive an award of certification endorsed by Commonwealth Youth Council(CYC) partnership projects
What benefits the participants will receive
Upon the Successful completion, participants will receive globally acclaimed award of graduation endorsed by inter-governmental and regional, national, international youth development agencies depend on the categories.
Participants will be provided with individual diaries, log book, work sheet to record their activities.
Additional Opportunities from global agencies to participate in various career development activities.
Mentoring and training &development, career guidance support from Individuals, corporate, Inter-Government agencies etc.

Extension Activities:
Audacious Dreams-Social Innovation Initiative Awards (ADSIIA)
The best selected service initiatives by an individual or group can apply for ADSII.
Shortlisted initiatives will be provided with one on one mentorship to scale up their projects then invited for final pitch in front of juries including prominent people from global agencies, social entrepreneurs, academician, angel investors, corporate etc.
Winning initiatives will get seed funding and yearlong mentorship with business assistance package will be provided to make the initiative sustainable.


Social Innovation Day

All participants will be invited to showcase their initiatives in a Social Innovation Day exhibition. The best projects will be displayed for public voting in a Social Innovation Day to celebrate success stories. The best voted projects will be eligible to enter into the ADSIIA as direct finalists

Benefits for an Institution hosting VIP

Individual Data Management to showcase Individual Social Responsibility (ISR) of the students/youth
Empowering all students/youth to contribute for nation building
Yearlong student empowerment programme supported with mentors and trainers
Capacity building programme for Staffs
Structured programme to monitor and evaluate students' performance online and offline to provide credit system
Promote students social innovation service learning programme across the globe and have your institution's brand presence.
Meet, Connect, Network, Partner with fellow students, institutions, inter government agencies, policymaking agencies.
A fair chance to introduce a life changing leadership programme to fellow students.


Projects in aligned with Post 2015 agenda

Goal 3 :Ensure Healthy lives and promote wellbeing for all at all ages.
Goal 4: Ensure inclusive and equitable quality education and promote lifelong learning opportunities for all.
Goal 5: Achieve gender equality and empower all women and girls.
Goal 10 : Reduce inequality within and among the countries.
Goal 17 : Revitalize global partnership for sustainable development.


Unique Status of the project

Building structured, organized space to do volunteer service especially for the women from rural areas or the women pursuing education in tier 2, 3 towns, rural areas are having no opportunity or less opportunity to involve them in developing skills or to do community services.
This project serves as an opportunity to provide organized, structured, certification for the work they wish to do.


Monitoring and Evaluation

Evaluation process will be recorded through the personal activity through log books, reports of participants and the benefits provided to the community.
An evaluation and review meet will be organized every quarter of the year to mainstream the project the right track.
A learning and sharing session will be organized to get to know the contribution of young people to the community and how the two way benefit is accountable
A time bound and accountability mechanism will be implemented.


Measuring Impact and expected outcome

Rural youth, young women from marginalized community will get an opportunity to participate in leadership training, one on one mentoring and to undergo a structured development programme
Through the volunteer projects, there is space for many new projects and benefits to the community will increase in diversified sector
The project is replicable and expand to other parts of the district, region etc


For Example




100 Youth
100 hours of organized service
10000 hours of diversified benefits to the communities
Expected outcome Experiential learning Community benefit Skills development Peer education Professional youth work Mentoring Training and development Institutional training Life skills development Functional skill development Women empowerment
100 Youth
200 hours of organized service
20000 hours of diversified benefits to the communities
200 youth
200 hours of organized service
40000 hours of diversified benefits to the communities

How to participate

Any individual or institution can register in the VIP programme.
Any individual or group of young people can join together to participate in the VIP programme.

We provide young students an opportunity to understand the industrial aspects and expectations The students will be provided with short term, long term internship and summer/winter placement opportunities with our organsiation and our partners. We also facilitate the projects and internships with various organsiation as per the need of the youth. Our training is not limited to Social work Management and Business Administration, sales, marketing, finance, advertising, public relation, political science, governance, administration nursing, paramedical and allied sciences engineering.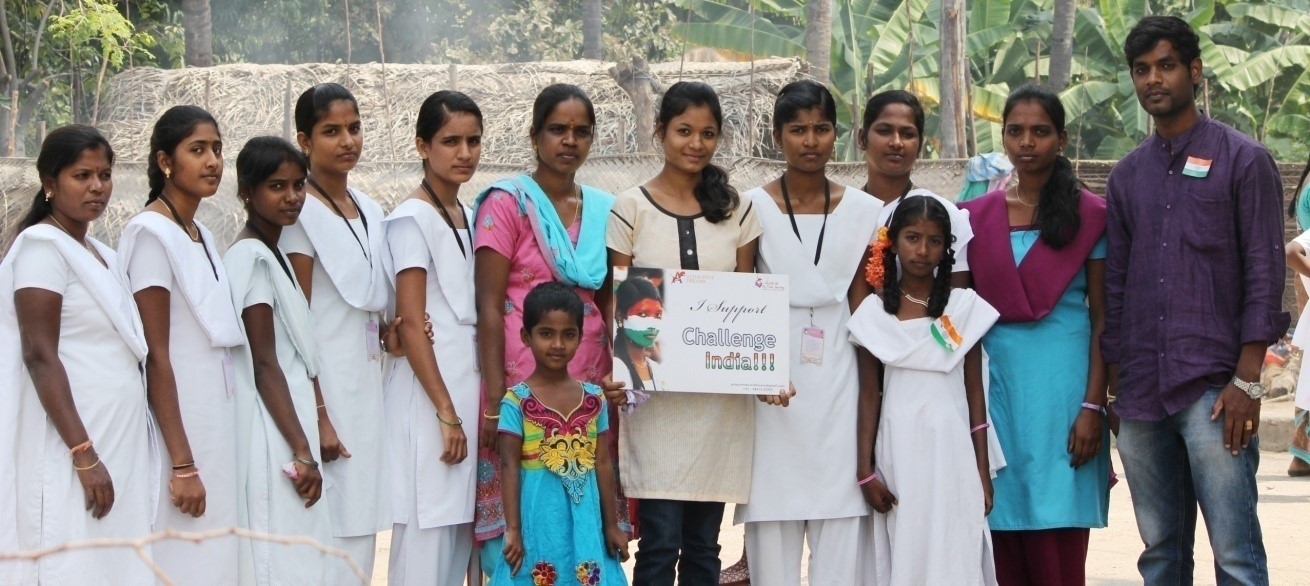 We have hosted students from various institions and organisations including
VIT University(Vellore Institute of Technology)
Auxilium college
Jaml Mohamed college, Trichy
University of Madras
Srilanka Institute of Information Technology
HongKong University
The International Award for Young People, United Kingdom
National Youth Services Council(NYSC),Srilanka
Community of Youth Development,Srilanka
GTM College
KMG College
Kingston Engineering College
Priyadharshini Engineering College
Sacred Heard College, Thirupattur
Indian Institute of Paramedical Studies
Marg Gregorius College, Chennai
Gurunanak college,Chennai
Madurai Kamaraj University
Audacious Dreams Youth Panel
Develop Youth for Development
The future of the Country rests with vast majority of young people. The Audacious Dreams Youth Panel is aimed at engage young people in a coordinated and structured manner, so as to unlock the vast potential inherent in them. The issues facing young people have been brought to the centre of the development and democracy agenda in many countries recently. Young people can be agents for positive change and only through a coordinated platform like this; they can be instrumental in making the change they want. Investment in young people must be real and practical, youth empowerment is more than a good concept- it can become the avenue through which the Audacious Dreams believes in. ADYP is a Youth Think Tank Audacious Dreams Foundation, India committed to inspire, inform, engage, enable and empower young people to advocate for nation building and sustainable development. It will be a advisory body consits of young changemakers who will provide needed assistance to plan,execute our projects.
The primary objectives of the ADYP are:
To invest in youth to develop themselves for the nation building. To mainstream youth in the decision making process and policy implementation. To prepare, practice, perform the focused agenda of global understanding for sustainable development. To act as Think Tank and executives for various stakeholders at grass root, regional, national and global level. To be a centre for information on youth work and development in the district. To concentrate on the development of adolescent youth and mainstreaming the girls rights and gender equality.
Vision:
The Vision of the ADYP is to provide resources, leadership opportunities, grass root experiential learning and a global network to the new generation of Young leaders to transform themselves as pillar of support for the nation building and global understanding. ADYP believes in the concept of "learn to serve" which creates the opportunity for the youth to learn and disseminate
Youth Council Member Responsibilities
Initiate the opportunities for the ADYP to represent in various forums Coordinate and controlling the initiatives taken by the YP Act as advocate of youth in local, regional, national and international issues Strategy formulation, team building, peer performance etc Monitoring and evaluate the programme plan
(The ADYP constitution and strategy will be formed by the new elected office bearers through independent elections with the support of Global policy agencies)