Audacious Dreams Foundation (Challenge India Programme)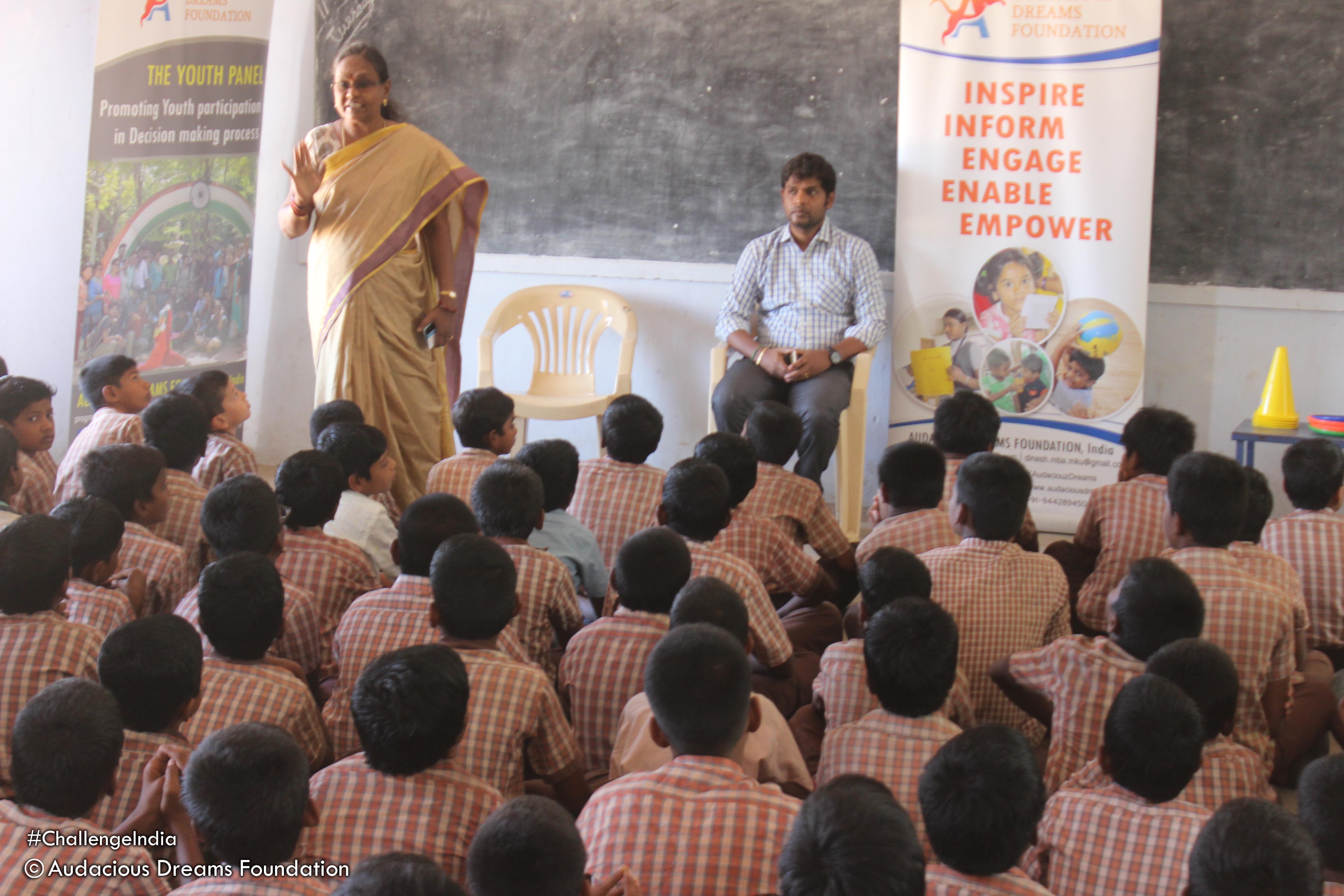 Audacious Dreams Foundation
(Challenge India Programme)
 Aug 2017 to Oct 2017
Catalyst & Executive Director Message
Audacious Dreams aims to Inspire, Inform, Enable, Engage &Empower grassroots young people and created a global platform with a bunch of opportunities for the upliftment of potential youth. We have empowered an uncountable number of young people across the nation through various project and programme. Last year we have organized a variety of programme in both urban and rural areas with help of our enthusiastic team. Really appreciate our team, they have worked without margin of time and they have given their full energy and passion to achieve our goal. When we started this financial year we have fixed our target to reach minimum 2500 young people through our challenge India programme. At the end of the year, we really wondered and amazed to see the results. We have reached more than around 2000 adolescent young people with high retention rate. Also, we have signed Memorandum of Understanding (MoU) with educational institutions and Non-Profit organizations across India. With this report, I thank all of our stakeholders, Partners, Volunteers, Interns and our lovable hard-working employees. Without your support, we can't able achieve this. On behalf of Audacious Dreams and Trusty chairs, I thank everyone for this great success
We feel proud and happy to see the quarterly report; it's all because of the support of our Fellowship members, stakeholders, Partners, Volunteers, our team members, and our lovable management team. Whenever we saw our footprints and scroll downed our history of last year that gives special boot up and enthusiasm.
With warm regards
Dinesh Gajendran,
Catalyst and Executive Director,
Audacious Dreams Foundation India
PROGRAM OVERVIEW
Challenge India is a flagship project of Audacious Dreams Foundation (ADF) aims to empower young People through sports and experiential learning with the support of various national and international agencies. Institute of Youth Affairs and Social Development – Audacious Dreams Foundation (ADF) aims to inspire, inform, engage, enable and empower youth for global understanding and sustainable development by using various measures starring from mutual dialogue, education, sports, rural development, policy making, adolescent health, environment, women empowerment, social entrepreneurship, vocational training. A social development agency sets the platform for the global network in India for young people, ADF is a member of Commonwealth Youth Council (CYC).
Our aim is to
Stop child labor, Reduce school dropout, Promote Higher education
Promote Gender equality
The idea behind the Project:
We use these following comprehensive methodologies
+ Life Skills
+Civic Citizenship
+Adolescent Health
+Global Understanding & Sustainable Development
+Community and Social learning
+ Gender Equality
+ Women Empowerment
The project aims to reach out to 2000 children from underprivileged communities in Vellore region, Tamil Nadu to improve the health and educational status in the area for all children (girls and boys). Through Life skills empowering young people through sports and experiential learning, we teach following topics among students: Self-awareness, Empathy, Critical Thinking, Creative Thinking, Decision Making, Problem Solving, Effective Communication, Interpersonal Relationship, Coping with emotions & Coping with Stress.
Session Topics covered:
Module 2, Objective 1: Differentiate between Life Skills & Other Skills, Define the concept of Life Skills and Describe the Practical use of Core Life Skills in daily Life.
Module 2, Objective 2: Internalize the 10 core Life Skills and apply the various life skills in different day to day contexts.
Module 3, Objective 1: Understand the difference between sympathy and empathy & know the importance of empathizing with others.
Module 4, Objective 2: Understand how creative thinking can help to find out innovative options & internalize the concepts of critical thinking and learn to apply it in daily life situations.
Schools Adopted: Skill development
We have working in 9 Government schools totally in Vellore district. In this 2266 students covered and by our staffs weekly one day one hour session delivered per child. Totally Per month one child receive 4 hours life skills through experiential learning.
Challenge India – S4DP (Sports For Development & Peace)
Children Outreach Status -Oct 2017
Sno
School Name
Boys
Girls
Co -edu
Total
1
Thotapalayam Government Girls School
 0
382
0
382
2
Thotapalayam Government Middle School(Ettiyamman st)
 0
0
71
71
3
Kangayeanallur Boys Hr. Sec.School
 268
0
0
268
4
Kangayeanallur Girls Hr. Sec.School
 0
182
0
182
5
Katpadi Boys Hr.Sec.School
249
0
0
249
6
Katpadi Girls Hr.Sec. School
0
453
0
453
7
Bagayam middle school
0
0
76
76
8
Idayanchatu High school
0
0
128
128
9
Thorapadi Hr.Sec. School
286
286
 
 
517
1027
561
2095
WEEKLY S4D SESSIONS IN SCHOOLS
No of sessions planned in the Schools from Aug 2017 to Oct 2017: 108
of Sessions Held in Schools from Aug 2017 to Oct 2017: 101
% of session conducted (Average) – 90%
% of children attended sessions(Average)– 91%
% of Girls attended sessions (Average) – 90%
Achievements in the Quarter Aug 2017 to Oct 2017