DREAM OF KALAM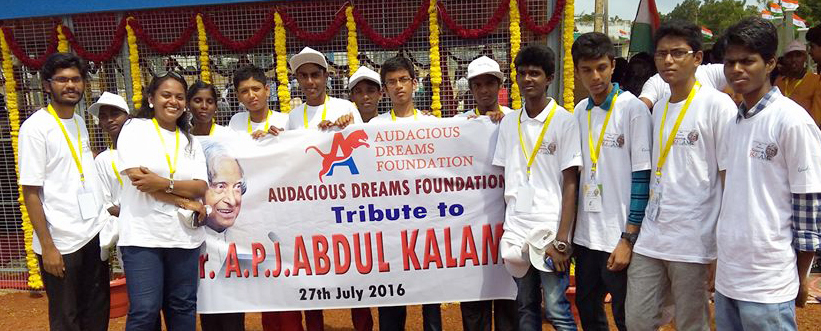 DREAM OF KALAM
Vellore – Rameshwaram – Trichy – vellore
Journey Are Endless
Dream of Kalam which is the first programme of Audacious Dreams Science Network (ADSN) in this academic year 2017 – 2018, organized to inspire young students towards achieving "Vision 2020". In 2016 ADSN organized the same programme in the name of Salaam to Kalam in association with Sathayabama University, Raindropss & Dr.APJ Abdul Kalam international foundation. Last year 2280 students from various educational institutions were participated and explored their talents.
Salaam to kalam's success gave an enthusiasm to us to organize the same event in this year. This year we have started initial discussion in the earlier June and proposed our plan to our management. Our ever smiling management approved our plan with greater appreciation. That gave the real boost-up to us towards focus our plan and to inspire students same like last year. But this year we have planned lot and formed project deisgn in the advance. Further we have started to reach institution in the middle of June exactly on 13th June 2017. Initially we have focused with 50 institutions & 5000 students to engage in this initiative. From our team Mr.Ganeshan has put his heart and soul into the initiative and who leads the journey with lots of care. From the 13th June  to 31st July we have organized Dream of Kalam program in 36 different institutions and 2298 students were engaged. This is an inspirational result. In this great time on behalf of Audacious Dreams Science Network we would like to thank everyone those who have contributed to organize this successful event. Also our special thanks to our lovable management, creative team, volunteers, schools and colleges management and student participants.
After the successful completion of the competitions in Schools and colleges we have initiated the process to finalize the students to bring them to Rameshwaram. Judges from various platforms were evaluated the competition materials and finalized 35 students to the Rameshwaram trip. Then we have announced the result to all the institutions those who have participated in the competition. We have called them to recognize in the big stage on 28th July 2017 at Auxilium College during the India Srilanka Youth Exchange farewell Programme 2017. All the selected students were honored by His Excellency Mr.V.Krishna Moorthy – The Deputy High Commissioner of Srilanka for South India, Prof.(Dr) Madan Mohan Goel, Director – Rajiv Gandhi National Institute of Youth Development & Mr.Dinesh Gajendran, Catalyst & Executive Director of Audacious Dreams Foundation – India.
At Central Marian Fishery Research Institute – Museum
Afterwards we have stared on 4th August evening towards the Rameshwaram to pay tribute to Dr.APJ Abdul Kalam with 35 students and 5 escorts. Early morning on 5th  August we have reached Rameshwaram. As per our plan morning we had a meeting & exposure walk at Central Marian Fishery Research Institute, Rameshwaram. That visit has brought lots of inspirations towards Marian Biology to the students. After the CMFRI visit we had a meeting with Rtn.Bala, President of Rotary Club of Rameshwaram. Than we went to  newly constructed Dr.Kalam's memorial. During the visit Dream of Kalam participants had learned lot about Dr.Kalam. Followed by we have visited House of Kalam and Gallery. Than Dr.Kalam's Brother and Grandson invited us to the interaction. That was the most precious moment to the students. After that wonderful meeting we have visited the end point of Rameshwaram Island "Dhanushkodi – Arichalmunai". Few of our students didn't believe they or in the end of the island. Really all the participants were returned with loads and loads of memories from Dhanushkodi. Evening we have reached Ramanathapuram for Stay.
On 6th August early morning we have started to Karaikudi from Rameshwaram. In between Rameshwaram to Karaikudi we went to Navabashana tample to see the ancient temple which is located inside the sea. Than around  9.00 AM we reached Karaikudi and went to Alagappa University's National Catering College, where we had a wonderful meeting with Lion.Syed. After the meeting we have started our journey towards Trichy. In Trichy we have visited Anna Science Center and Planetarium, where the students have seen Sky theater, 3D Show & Evolution Park. Than we moved to  Srirangam for site seeing. Followed by the Srirangam visit we moved to see the Integrated organic farming at Naveen Garden, Thuraiyur, where we had a interaction with Mr.Naveen who has completed PhD and doing farming. He has shared his experiences of farming and shown his rare collection of species. Really all the participants were enjoyed that session. Than we all had a dinner at
in the farm environment. Everyone loved that environment and hospitality. Around 9.00 PM we have started to Vellore with heartful of memories and experiences. We have received amazing feedback from the participants which we didn't expected. We all enjoyed and appreciated ourselves after read few feedback of students. This much of success and result which we have seen is possible only because of you people and your supports. We would like to thank each and everyone those who have contributed and supported us.
Early morning on 7th August we have reached Vellore.  Finally the Dream of Kalam 2017 event ended with amazing memories. Lets fresh-up your minds for the 2018 Dream of Kalam event.
Thank you !!!!