International Rotary Youth Leadership Awards(RYLA) cum
International Youth Exchange Programme
1st to 7th May 2018 @ Srilanka
Do you want to develop and enhance your leadership qualities? Are you looking for something to make your resume stand out among the masses? Then consider nominating for the International Rotary Youth Leadership Awards (RYLA) Cum International Youth Exchange Programme, which is to be held from 1st to 7th May 2018 @ Srilanka .
International RYLA in Srilanka is an intensive 7-day program aimed at young people  who have the ability to be respected leaders within their institution, organisation, community or workplace. This program is a fantastic opportunity for youth to learn new skills and meet some wonderful, new and like-minded people. RYLA aims to bring participants out of their comfort zone and challenge them to think outside the box while actively using and building on their existing skills and knowledge.
Greetings,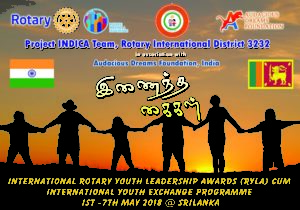 We the project INDICA Team and Rotary International District 3232 is conducting International RYLA cum International Youth Exchange during 1st to 7th May 2018 @ Srilanka for our Rotary Districts. This visit will be facilitated by Audacious Dreams Foundation(ADF), India
    Previously Audacious Dreams Foundation,India in association with National Youth Services Council (NYSC), Ministry of National Policies and Economic Affairs,Govt. of Srilanka jointly hosted India-Srilanka Youth Exchange (ISYE) Programme in Srilanka and India during 2015, 2016 & 2017.
Why should attend International RYLA cum International Youth Exchange Programme? : We believe this International RYLA cum International Youth Exchange will give an opportunity to unleash the potential of our youth to empower themselves and community around them. This visit helps our fellow youth to create peace talks, civic responsibility, cultural understanding, policy exchange, Management skills, communication, rich diverse experience, field visits etc. We see an opportunity for youth to develop and engage with societal issues to be a part of new generation change agent.
What is special? Youth Peace, Reconciliation & Development project in Northern and Eastern Province of Srilanka (Visits to Jaffna, Mannar, Kilinochi, Mullaitivu,Vavunia, Trincomalee)
Apart from RYLA, the proposed visits involve youth, peace, reconciliation, relief, Volunteer and Social development projects in the Northern province of Srilanka once affected through 30 years of internal civil war. We aim to bring together various stakeholders on board to achieve our vision which is a strong empowerment of young people through a holistic approach to enhance and strengthen the relationship between India and Srilanka.
Additionally, visits and interactions with various Ministry, Inter govt agencies like United Nations, Commonwealth reps, Parliament representatives, British Council, visit to Parliament and High Commission, Young achievers, Hon Speaker of Youth Parliament, Schools, Universities etc has been arranged.
Who can Participate: Annettes, Rotaractors & Interactors, Rotarians & Non-Rotarians, Any student or youth between the age of 11 to 29 from any country can participate.(Special arrangements appreciation made & working session and awards ceremony has been made for Annettes )          
Other Country: Encouraging youth from others countries can participate (Special volunteering abroad & Intern Abroad scholarships and arrangements made for the non-Indian foreign participant's post trip.please get in touch with us to plan your travel and internship or volunteering opportunities beyond the trip . write to us [email protected])                                                              
Participant Contribution :From Chennai Airport : 45500 INR(700 USD) / Individual + 3500 INR Application & Processing charge (The package includes Application and processing fee, Airfare Chennai – Colombo return, visa, accommodation, food, logistics awards, certification, sight seeing and all domestic travel expenses in Srilanka for one week ).
Registration and deadlines (Flying from Chennai including flights and visa) :
 Early bird: 49000/- INR (up to  28 Feb 2018 )  

2

nd

slot: 55000/-INR (1

st

Mar to 10

th

Mar 2018)     

3

rd

slot: 62000/- INR (11

th

Mar to 20

th

Mar 2018)

Final slot: 70000/- INR (21

st

Mar to 31

st

 Mar )

Optional: For Delegates flying from other locations directly to Srilanka from their hometown can book their own flights and visa
They have to pay the programme fee (excludes flight and visa) ( includes Application and processing fee, accommodation, food, logistics awards, certification, sightseeing and all domestic travel expenses in Srilanka for one week)
Early bird :  39000/- INR (up to  28 Feb 2018 ) / 600 USD

2

nd

slot     : 45000/-INR (1

st

Mar to 10

th

Mar 2018) / 700 USD

3

rd

slot: 52000/- INR (11

th

Mar to 20

th

Mar 2018) / 800 USD

Final slot: 60000/- INR (21

st

Mar to 31

st

 Mar )/ 900 USD

Collaboration :
Inviting the Rotary Clubs, District, Organisation, Schools, Universities, Entities to partner as
TITLE Partner

LEAD CLUB

LEAD DISTRICT

HOST

CO-HOST

PRINCIPAL SPONSOR

CO-SPONSOR

POWERED By

CO ORGANISING

PARTICIPATING CLUB/DISTRICT
Rush  before  February  28, 2018 for early bird Registration
Send us the nomination details and If you have any inquiries, please contact the Rotary Youth Leadership Awards Committee at [email protected]  
Warm Regards  :
Rtn. R.Srinivasan,
District Governor, RI Dist 3232, Chennai, TN
Rtn. Mythili Muralidharan,
Chairperson – Project INDICA, RI Dist 3232, Chennai, TN  
Rtn. Dinesh Gajendran
Chairman – Rotaract, RC Vellore fort, RI Dist 3231, TN  
Audacious Dreams Foundation – India
Ph: +91 8883449369 | +91 9442894508 | +91 8754778345
Follow us for updates regarding the programme: https://www.facebook.com/gusdindia/
www.facebook.com/audaciousdreams  | www.audaciousdreams.org | http://gusd.audaciousdreams.org